Welcome to Tony's Turf News! This blog will provide monthly course and grounds updates from Canal Shores Superintendent, Tony Frandria.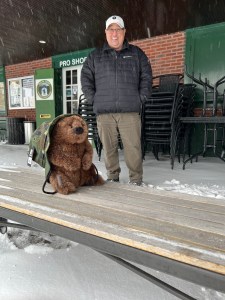 As we navigate our way through the winter months the Grounds & Greens Department continues to remain busy performing in-house equipment maintenance and small projects out on the course as weather permits.
Prior to putting the course to sleep for the winter, many cultural practices and tasks were accomplished to enhance playing conditions. The following is an outline of work that was completed last fall in preparation for the 2022 golf season.
Greens:
All greens were deep tine and core aerated.
All greens were overseed with creeping bentgrass.
All greens were covered with a layer of sand topdressing to protect the new seedlings from the winter elements.
Greens that suffered the most stress were covered for the winter.
#13 Green:
This green has presented an agronomic challenge for many seasons. Shade, poor air movement and a compromised root zone have all added to the difficulty of maintaining quality turf. Last fall we modified the root zone, installed new irrigation, and addressed trees that need to be removed and trimmed to provide more suitable and sustainable growing conditions.
In the Spring we will re-grass the green with bentgrass sod. Timing to open this green will be determined by weather conditions and when the green is ready to withstand traffic from golf play.
Tees & Fairways:
All fairways have been dormant treated to eradicate broadleaf & biennial weeds.
All fairways have been overseed with a custom seed blend.
All tees were core aerated and overseeded with a custom seed blend.
Irrigation Central Control & Equipment Upgrades:
We've invested in updating our irrigation central control system. The new computerized central control system will allow us to irrigate the course in a more efficient and effective manner. These newly instituted upgrades will replace the aging central control system that dates to the early 1990's.
We've also invested in new equipment items that will allow us to perform cultural practices necessary to provide and promote better turf health.
I'm excited and looking forward to the start of the 2022 golf season. I'm also enthusiastic about becoming a part of the KemperSports team. The future of golf at Canal Shores is bright indeed!!
Tony Frandria
Golf Course Superintendent
Canal Shores Golf Course