Greetings –  I am Chris Charnas, Vice President/Golf at Canal Shores, and this is your regular update on the progress of renovation at Canal Shores. The golf course is now closed until the grass is ready for play in 2024. We are making steady progress from the north end to the south. At this point all the holes have active work going on with grow-in commencing on the north three holes. Click here to view this video of the north end holes to see the dramatic progress!
Current progress report:
5, 6, and 7: these three holes are completed and we have started grow – in. Grass has germinated this week.
4 and 8: these holes have been drained and have sand on them. Sodded and seeded this week.
3 has been drained and has sand on it. Sod and seed will be put on early next week.
9 and 10: final shaping done. Greens ready for draining and sand next week, should be grassed next week as well.
2 and 11: rough grading completed. Dissipators going into the canal have been completed.
12: rough grading in progress. Dissipator going into the canal has been completed.
1: tree clearing has finished and the hole has been rototilled.  Work is commencing on the 30,000 square foot putting green.
13-18: tree clearing is in progress. Rototilling will start next week
Grassing will be complete on all of the holes north of Central Street by September 30!
Hole #11 Par 3 135 – 175 yards. 
Tunnel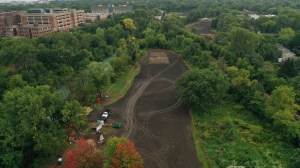 The mid-length 11th is Canal Shores version of the famed Biarritz template found at local Shoreacres and Chicago Golf Club, and most other McDonald/Raynor/Banks creations. Except for the Bahai Temple #6 putting hole, this is the largest green on the golf course, characterized by two plateaued areas front and back with steeply banked side slopes. A central swale bisects the green at an angle perpendicular to the
line of play. This swale has been positioned directly on an axis with the adjacent tunnel that takes golfers under the El tracks to hole #12. It will be interesting to see how it will be played during the Reverse Jans!
Please let me know if you have any questions on the project or would like a tour. If you prefer to be unsubscribed from this newsletter, please let me know. Finally, a huge thank you to all that have donated to the Canal Shores 2nd Century project. If you have not yet donated and are interested, you can email me to set up a meeting or you can access our donation site here.
Regards,
Chris
*** Photo and Video credit to Illustrious Patrick Hughes