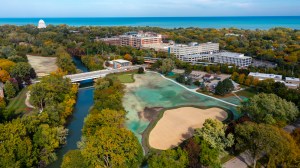 Greetings –  I am Chris Charnas, Vice President/Golf at Canal Shores, and this is your regular update on the progress of renovations at Canal Shores. The above photo is of the 30,000 square foot putting green (at bottom) and hole #1 (at top, just south of the Central St. bridge) The endless rains returned this past week and it slowed us down some. I did learn an important lesson–the Gator can still get stuck in the mud if it rains two inches over just a few days!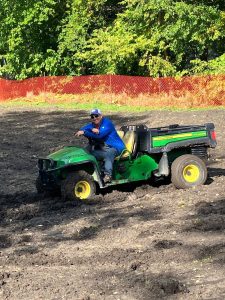 We are nearing completion of the renovation! I thought you would enjoy this drone flyover from south to north of the entire course which showcases all the work in progress and completed to date. Holes Holes #2-#12 all have been grassed and are being grown in by our maintenance staff with support from our management company, KemperSports. Under the leadership of Josh Lesnik and Vince Juarez, Kemper has provided us with essential  guidance throughout this entire process. We are very grateful to have them as part of our team. And, of course, our construction partner Wadsworth Golf Construction Company and golf architect Quitno Golf Designs.
Before I recap all the construction progress and highlight the golf experiences coming to Canal Shores (holes #12 and #13 are featured in this edition), below is a photo of the last stages of greens construction. #15 is on the right, fully sanded and ready for some seed. #16 is on the left, drainage and irrigation is in place, waiting for the sand.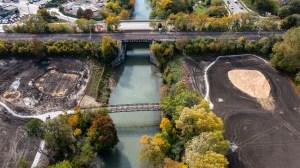 Here's a recap of the construction progress:
We are nearing the end of the growing window for 2023.
All tree work has been completed
All drainage dissipators have been installed
Practice Putting Green: grassing completed this week
Hole 11: being grown-in
Hole 12: being grown-in
Hole 13: seeding finished this week
Holes 14,15,16:: shaping completed, grassing to be completed next week
Hole 17: shaping completed on 17a and 17b and the newly established wetlands. Grassing to be completed next week.
Hole 18: preliminary shaping completed. Final shaping to be done next week.
As we near the end of construction, we are turning our attention to Summer 2024 when we reopen Canal Shores to the public. The new greens and irrigation system are only a part of what will be new  at Canal Shores going forward. Over the coming months we will preview what else is planned at Canal Shores as we look forward to our 2nd Century of providing affordable, fun golf to the local community.
As the holes grow in, we'll be highlighting the great new golf experiences coming to Canal Shores:
Hole #12, a par 4 220-275 yards.
HOLLOWS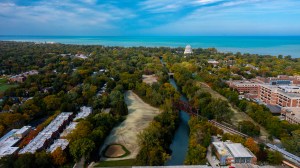 The 12th derives its name from grassy hollows and mounded spoils that adorn the landing area and are remnants from the original Bendelow design. Cutting the corner of this dog-leg right and avoiding the hollows will result in a short pitch to a green site that has been recaptured to its original edges and equipped with an expanded front section. A false slope will catch any short approaches, funneling them back off the green. For the less bold, plenty of area exists along the outside of the dog-leg to lay up or bail out off the tee, but leaves an approach angle requiring a carry over the steep-sided hollow at the front left of the green. Green inspiration: recapture and expansion of 1920s Bendelow green.
Hole #13 , a par 3 105-145 yards.
EDEN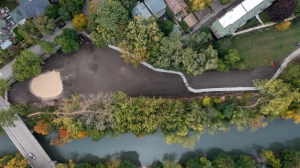 The 13th has by far the smallest greenon the golf course. The original green surface here was restored in 2021 after shade, drought and excessive traffic had taken its toll. Measuring at only 1800 square feet, hitting the green will require precision but those who are successful should have a great look at birdie. To add a bit of challenge, the rebuilt green surrounds are designed with a subtle nod to the famed Eden template, with the left flanking Hill hollow, the front Strath hollow, the Canal swale behind the green and the Shores hollow shortand right. Green inspiration: recapture of 1920s Bendelow green.
Please let me know if you have any questions on the project or would like a tour. If you prefer to be unsubscribed from this newsletter, please let me know. Finally, a huge thank you to all that have donated to the Canal Shores 2nd Century project. We have currently raised $5.3 Million of our $5.9 Million goal.  If you have not yet donated and are interested, you can email me to set up a meeting or you can access our donation site here.
Regards,
Chris
*** Photo Credits to Patrick Hughes, Jr. His help on this project has been immeasurable.
*** Additional Thanks and Credit to Tim Pretzsch – who makes sure these missives makes sense and have correct grammar