Preserving The Future Of Golf In Our Community
In January 2016, the Evanston Wilmette Golf Course Association, which runs and maintains Canal Shores Golf Course, received a planning grant from IDNR's Coastal Management Program. This grant enabled Canal Shores to "hire a design engineering firm to develop a comprehensive habitat restoration and land use plan." This was a $20,000 matching grant, and the Association wass tasked with raising $20,000 for the match. In April 2016, Canal Shores issued an RFP, received nine proposals, and selected PRI, Planning Resources, Inc. for the job. PRI utilized this three-step approach:
conduct natural resource inventories, including delineation of wetlands, an inventory of trees, and mapping of the general habitat across the property
identify restoration and green infrastructure opportunities; and
develop an Ecological Master Plan that provides a clear understanding of the site's goals and tangible direction on how to achieve those goals.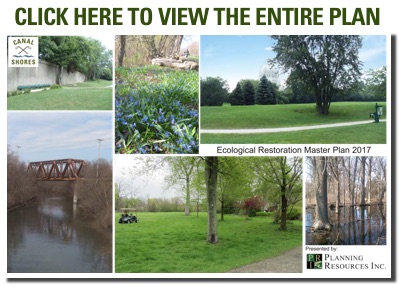 Click here for the Eco-plan exec summary
Click here for the Canal Shores Tree Survey
Canal Shores signed the PRI contract and raised the $20,000 needed for its part of the matching grant. PRI's work took approximately 9 months. The Grounds Committee provided oversight for this planning process and invited neighbors to work with the committee.
Subsequent Action Plan for Implementing the Ecological Restoration Master Plan
The goal of the Action Plan is to categorize and prioritize conceptual recommendations for the Ecological Restoration Master Plan and identify resources, stakeholders, and planning requirements that will facilitate their implementation. To accomplish this, members of the Canal Shores focused their efforts on two broad categories: Ecological & Habitat Restoration and Passive Restoration.
Click here to read the Canal Shores Eco Action Plan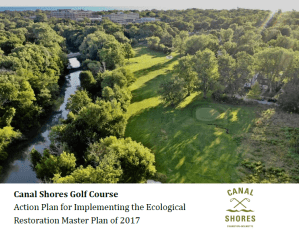 ---
A look back: steps Canal Shores has taken to bring the course back and improve its ecological health:
Hiring an experienced golf course supervisor;
Seeking advice from local sustainability groups (Talking Farm, Evanston TreeKeepers);
Building a berm at the north end of the course at Sheridan Road and planting it with native species — an area now certified by the National Wildlife Federation as a wildlife habitat;
Working towards certification from the Audubon Cooperative Sanctuary Program for Golf
Partnering in the Natural Habitat Evanston initiative to achieve NWF certification for Evanston as a community habitat for birds and pollinators.
With the continued support of all our community partners, the Canal Shores restoration effort continues to create a beautiful green space for generations to come.